This is a common question for all parents as you consider the best fit for your family!  
There are several reasons boarding schools are a staple in private school instruction: the arts, small class sizes, individualized attention, college prep, academics, and more. We recommend looking at Boarding School Review's Top 10 Reasons to Attend Boarding School!
At ICON, we believe in caring for the whole child.  Our Student Life Director and Dean of Students oversee every aspect of student life, including opportunities to interact with the local arts community, social events for the student body, skill-building for successful independent living, and social-emotional learning.  The Student Life Team includes live-in residential assistants, school counselors, and learning coaches, all trained to respond to the unique needs of adolescent learners in a boarding school setting. 
"After a busy day of singing, dancing, acting, painting, designing, rehearsing and studying is over, I get to go home to cook healthy meals with my roommates and RA.  We usually just relax on the couch in our awesome apartment unless it's grocery day or laundry day then my RA's or Student Life Director take me where I need to go and help me.  We have a nurse practitioner on campus but The University of Iowa Hospitals and Clinics have really accessible care in their clinics that are close by.  Plus, there's lots of coffee places and restaurants close by!  We are a family!"  – Senior 2025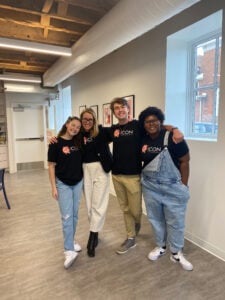 Welcome home!